Eclectic collection of memories. The photo-write ups of my projects; my bikes & Land-Rovers; Land-Rover adventures; biking days out, all that kind of stuff, for your entertainment & amusement.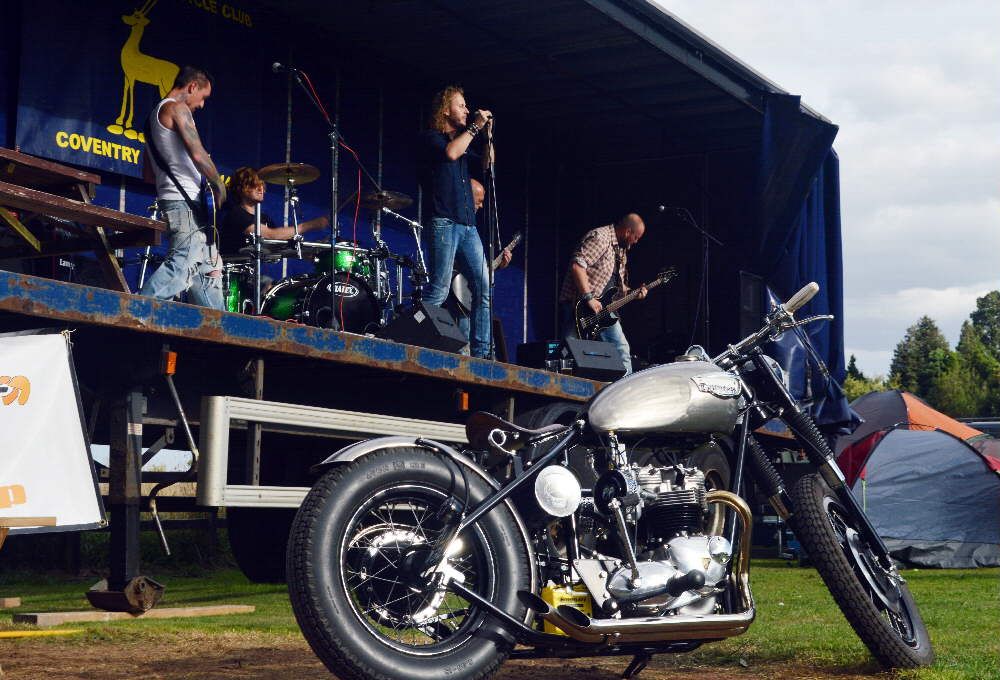 2013: Antelope MCC's 2nd Blood Sweat And Gears!!!
31st August 2013. Looking at 'Whats On' pages, the BSnG show popped up. Horse & Jockey Corley; barely seven miles away, on Donna's day off, decided it would be rude not to potter over on the Pup really, so we did. Thank You Antelopes, for a great day. Easy, relaxed, friendly, and every-one's called 'Dave'?!?!?!?!?!?
Last Changed: 06/09/13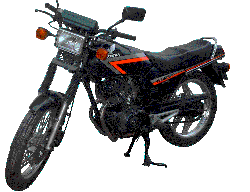 2012: 'The Black One' (Little Dreams Project 2)
A very well preserved example of the model, an 1987 CB125TD-E, that had been used by a fair-weather rider while learning, and was in remarkably good fettle apart from an engine that wouldn't run, having no compression. Bought because the price was good, with the idea that it might make a good project bike for Donna, or an easy fix to give her a 'rider' while she did a full renovation on another bike, things didn't go to plan; then hicupped, when I started to sort it after I had finished the Corporal, eventually getting round to doing it 'properly' autumn 2012. Completed, passing MOT first time, no advisories, November 2012, & currently 'For Sale'.
Last Changed 21/11/12
2011: The 'Yamaha Enduro' Project
This DT is a bit of a Mongrel. Originally registered in 1975, it would have been a twin-shock model, probably badged 'Enduro'. However at some point in its life, probably around the introduction of the 125 Learner-Laws in 1983, it was re-built into a mono-shock DT175MX frame. I acquired it in the spring of 2010, as something to muck about with, as its got a high seat height and not a lot of weight, and I can hold it up a lot more easily than the Dawg! It was also cheaper than a new set of tyres for the Dawg!
Last Changed: 23/05/13
2011:- 'The Corporal' (Little Dreams Project 7)'
Rather like 'The Black-One', The Corporal, cropped up on e-bay, very local, with a low bid price, and a dead engine. Seemed like a likely candidate for attention, and since it still had T&T on it, it was the first bike I started renovating, it proving a more daunting job than anticipated, discovering that it was in far worse state than first appearances, or a valid MOT cert suggested it ought to be, and I had a lot of work to do, undoing a lot of the former owners work 'resuscitating' the old girl, rather than restoring her! Completed, July, 2011, & sold August 2011.
Last Changed 15/06/12
Last Changed: Title Only
Last Changed: 28/12/10
Last Changed: 23/11/10
Last Changed: 10/03/12
TBD: 'Scruffy' (Little Dreams Project 4)
One of two bikes we were e-bidding on at the same time, as candidates for Donna's Pup-Project. Idea was we might not win either, but if we did, she could choose the one she liked most and I'd do the other as a bit of occupational therapy. As yet to see any significant attention!
Last Changed: 23/11/10
TBD: 'Five Alive' (Little Dreams Project 5)
Five-alive was sold with Scruffy, as a Donor-Bike for parts, Seller telling me he'd intended to take the seat, exhaust and forks off to get Scruffy through an MOT. But, a little fresh-petrol in a tank that wasn't clogged with silt, and a new ignition barrel, to replace the bear wires from a botched attempt at hot-wiring, and messing around, the little rascal fired up almost first prod, and has kept haranguing me, by poking me in the ribs or grabbing my overall's pleading not to be 'disassembled'....
Last Changed 15/06/12